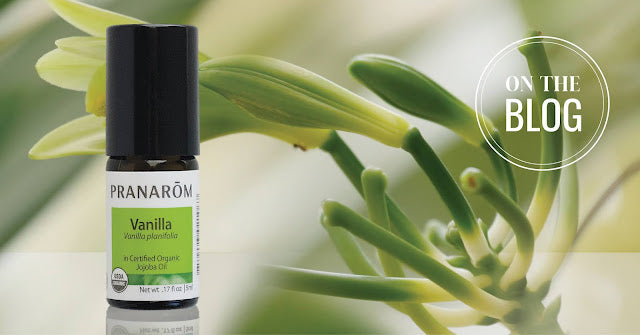 Smooth, rich, sweet, deep, spicy – there are so many adjectives to define the smell of delicious vanilla oil. In this time of crisis and confinement, it's not uncommon to feel a little stressed or depressed. The comforting aroma of vanilla can help counter this – but where does this precious oil come from, and what makes it so special?
A Gift of Comfort & Joy from Mexico to Madagascar
Vanilla comes from the fruit of an orchid and is native to Central America. Until the end of the 18th century, pods were collected from wild orchids and pollination was done by small bees. In 1880 the French colonists brought vanilla to Madagascar, transplanting the finest roots onto the island. Today, the country's ideal climate and the ancestral know-how of its people make Madagascar vanilla some of the best in the world.
This is the vanilla (vanilla planifolia) that we harvest for its aromatic extract. The process of obtaining the vanilla pods is not easy, which is part of what makes this warm and spicy aroma so precious. Here's how it's done:
1. Lianas (vines) are planted at the end of the dry season at farms in Madagascar.
2. Plants grow and mature for three years.
3. The orchid blooms over a period of approximately three months.
4. The flowers are pollinated by hand, between 10 am and 12 noon, October to November.
5. The harvesting of the first mature pods takes place the following June and July.
6. The ripe vanilla bean, which is green in color, is heated in water to about 150-160 degrees. Scalding stops the ripening of the vanilla pods and triggers a chemical reaction that is responsible for the aroma of vanillin (the aroma of vanilla).
7. Then comes the steaming, which allows the pod to finally take its chocolate brown color.
8. The vanilla bean is dried in the sun, then dried in the shade for 2-3 months.
As you can see, the production of vanilla takes 4-5 years, from planting the vanilla cuttings to placing the final vanilla pods on the market. Although long and arduous, this very traditional method produces the finest aromatic experience.
All About the Aroma: Benefits for Mind & Body
We all know vanilla for its heavenly aroma and flavor, but that's only a part of its potential. In recent years, the scientific world has taken a keen interest in vanillin, an aromatic constituent of vanilla, for its therapeutic potential. Vanilla not only tastes and smells good – it can help you feel good, too!
When you're feeling down, vanilla is exceptional for supporting positivity while soothing tension. On stressful days, take a few moments to breathe deeply and enjoy vanilla's scent.
CO2 Extraction
Our high-quality, highly titrated vanilla oil is the result of CO2 extraction, a natural and plant-friendly process that extracts the plant's precious molecules. Unlike other chemical solvent extraction processes, supercritical CO2 extraction does not leave behind any concerning chemical residue. Similar to steam distillation, CO2 is gentle on the molecules being extracted, preserving their vitality and their exquisite scent. The result is an extremely concentrated extract that we dilute with jojoba for safe skin application.
Bibliography
Pediatrics. 2005 Jan;115(1):83-8.
Olfactory stimulation prevents apnea in premature newborns. Marlier L1, Gaugler C, Messer J.
• Iran J Pediatr. 2013 Jun; 23(3): 261–268.
Olfactory Stimulation by Vanillin Prevents Apnea in Premature Newborn Infants
Mitra Edraki, MS,*,1 Hajar Pourpulad, MS,2 Marzie Kargar, MS,2 Narjes Pishva, PhD,3 Najaf Zare, PhD,4 and Hashem Montaseri, PhD5
• Psychiatry Res. 2015 Feb 28;225(3):509-14. doi: 10.1016/j.psychres.2014.11.056. Epub 2014 Dec 9.
Vanillin-induced amelioration of depression-like behaviors in rats by modulating monoamine neurotransmitters in the brain.
Xu J1, Xu H2, Liu Y3, He H4, Li G5.
• Indian J Pharmacol. 2013 Mar-Apr;45(2):141-4. doi: 10.4103/0253-7613.108292.
Evaluation of antidepressant activity of vanillin in mice.
Shoeb A1, Chowta M, Pallempati G, Rai A, Singh A.
• Biochim Biophys Acta. 2011 Feb;1810(2):170-7. doi: 10.1016/j.bbagen.2010.11.004. Epub 2010 Nov 21.
Evaluation of antioxidant activity of vanillin by using multiple antioxidant assays.
Tai A1, Sawano T, Yazama F, Ito H