Nourishing & Soothing for Wellness & Skincare
A Virgin Plant Oil is derived from the first cold pressing of nuts, fruit, and oily seeds. Nourishing and soothing, they provide a wide range of benefits for wellness and skincare. However, there are many plants that cannot produce oil from pressing. In this case, we have what are called macerates.
What Is a Macerate?
Macerates are obtained by a method that has been around for hundreds of years. First, a plant is chosen for its active properties, such as Calendula or St. John's Wort. The parts of the plant chosen (flowers, seeds, etc.) are left to macerate in a "base" virgin oil, such as olive oil. This maceration often lasts several weeks. After that, the preparation is filtered, resulting in a virgin oil enriched with the main active ingredients of the plant.

You can use these oil macerates like any Virgin Plant Oil. Currently Pranarom has four macerates:
ARNICA – Traditionally used for healing in herbal medicine, Arnica oil is widely known to soothe bumps, bruises, discomfort in joints and occasional muscle strains. Arnica is an ideal carrier for essential oils such as Helichrysum, Peppermint, Rosemary and Lavender.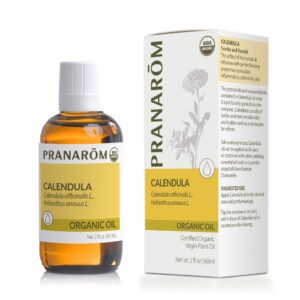 CALENDULA – Calendula is an ally of babies and their sensitive skin and is often used as a moisturizer for infants. Safe and easy to use, Calendula oil can be applied on its own, or combined with other soothing essential oils such as Lavender or German Chamomile.
CARROT – This easily absorbed, brilliant orange oil brings a healthy glow to your skin. Due to its antioxidant action, Carrot oil promotes skin tone and elasticity, especially in the throat and neck area. Carrot oil derives the majority of its properties from beta-carotene, which gives this infusion its beautiful color.


ST. JOHN'S WORT – Used as a remedy since the Middle Ages, St. John's Wort is a true herbal bandage! This oil supports cutaneous and cellular regeneration and is suitable for sensitive skin. It nourishes and calms occasional redness or irritation, leaving it soft and smooth. Although ideal for minor injuries, St. John's Wort oil is photosensitizing. Apply it in the evening before going to bed and do not expose treated skin to the sun for 24 hours after use.


Keep in mind that Virgin Plant Oils and Macerates blend beautifully with pure essential oils. For general skincare and cosmetic use, follow a 1-3% essential oil dilution ratio or 9-27 drops of essential oil to 1 oz. of organic plant oil. Visit our website for specific oil guidance.