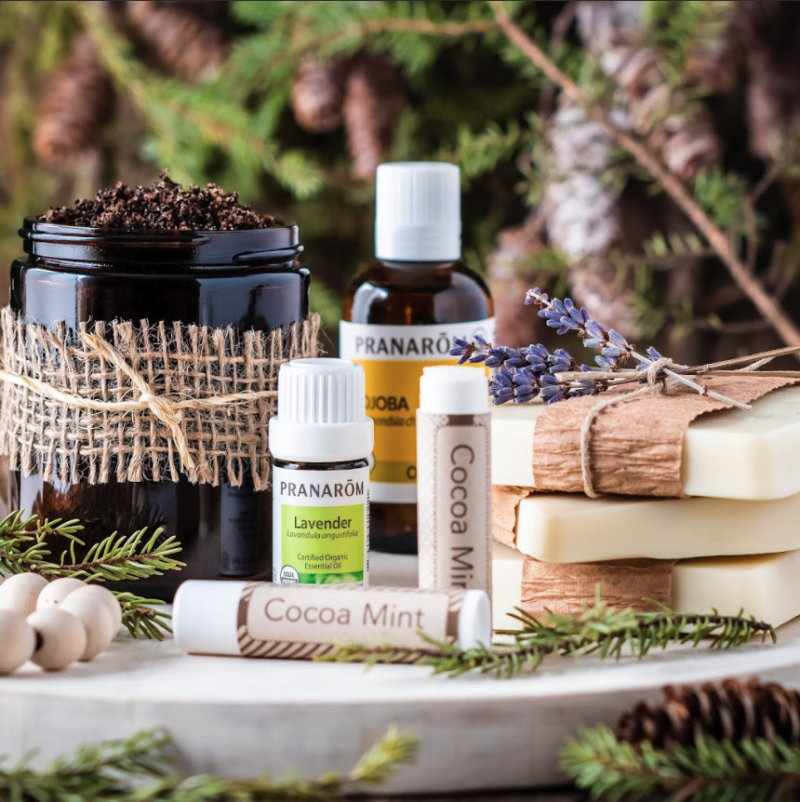 Give the gift of Aromatherapy… with a personal touch!
Nothing says I care about you more than a handmade gift. The thought of taking time to make something with your hands makes the idea of gift giving so much more special. There are so many great things you can make with essential oils.

Today we are sharing three simple recipes and some fun ways to package them for an amazingly stylish gift. These DIY's are not only great for the holidays but can be enjoyed year-round.

We hope you enjoy!
Coffee Sugar Scrub
½ C. Sugar
½ C. Coffee Grounds
½
Vanilla Bean, ground in a coffee bean grinder.
3 Drops of Pranarom Cardamom Essential Oil
1 ½ t. Pranarom Jojoba or Sweet Almond Virgin Plant Oil

Add sugar, vanilla bean and coffee grounds to a small bowl. Mix them together until well combined. Add oils and stir until incorporated. Add to a glass jar until ready to use.
Cocoa Mint Lip Balm
1 T. Beeswax Pastilles
1 T. Cocoa Butter
2 T. Pranarom Jojoba Virgin Plant Oil
10-15 Drops Pranarom Peppermint Essential Oil
5-6 Lip Balm Tubes

Melt beeswax, cocoa butter and oil together in a glass container with a spout in the microwave. If you don't want to microwave, place glass container in a pot over simmering water. Stir until ingredients are liquid, then add essential oils. Mix well and pour liquid into lip balm tubes, tins, or jars. (makes approx. (6) .15 oz. tubes. We love this one with just mint, but you can try other options as well.


Shea Lotion Bars
½ C. Shea Butter
¼ C. Organic Coconut Oil
2/3 C. Beeswax Pastilles
10 Drops Pranarom Spearmint Essential Oil
10 Drops Pranarom Orange Essential Oil
10 Drops Pranarom Lavender Essential Oil
Square Silicone Molds

In a double boiler (or a large glass bowl sitting on top of a small pot of water), melt shea butter and beeswax over medium low heat. When shea butter and beeswax are nearly melted, add coconut oil (which will melt very quickly). Stir until completely melted then remove from heat. Wait 10 minutes for mixture to cool a bit before adding essential oils. Pour melted lotion base into molds and let cool until completely solid (this will take several hours). Remove lotion bars from molds and store in a cool, dry place. To use: simply rub lotion bars in between your hands to activate. Your body heat will melt/soften the bars. Makes around 3-5 bars.