Thursday, May 4th, 2023 | Article by: Liza Docken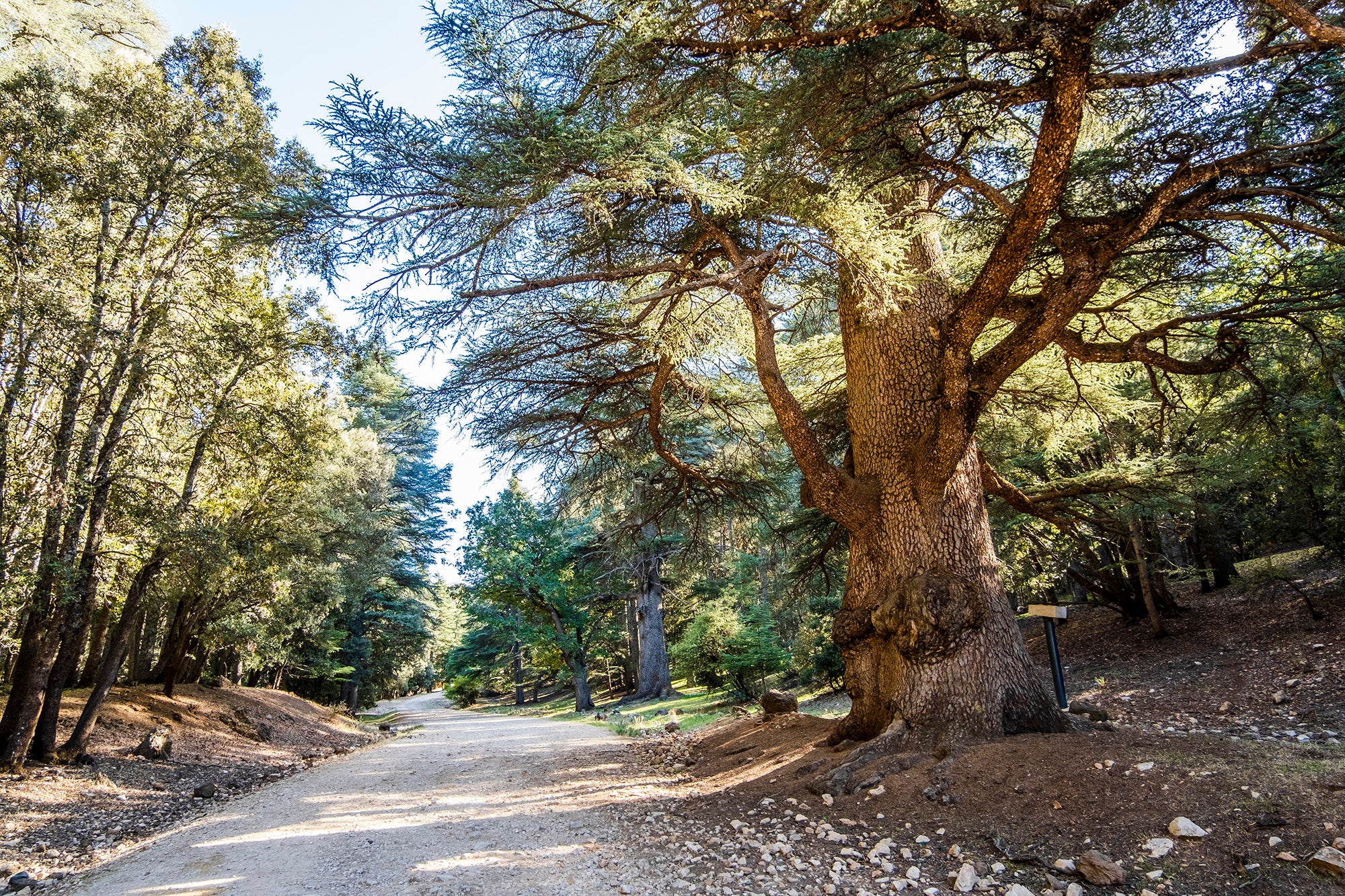 Atlas Cedarwood organic essential oil comes from large trees, towering over 1,000ft, that are native to Morocco and Algeria. Unlike other coniferous oils that are sourced from the needles of the tree, like Douglas Fir or Scotch Pine, Atlas Cedarwood is steam distilled from the wood of this tree.
Named for the Atlas Mountains where these trees grow, Atlas Cedarwood Cedrus atlantica is not to be confused with Texas Cedarwood Juniperus mexicana, Himalayan Cedarwood Cedrus deodara, Virginian Cedarwood Juniperus virginiana or White Cedar Thuja occidentalis. Each oil has its own smell, use, and safety considerations. For the sake of this post, I'll be discussing Cedrus Atlantica, the only Cedarwood that Pranarōm currently offers. Being clear on what type of Cedarwood you have is crucial for using the oil in blends for topical use or for diffusion.
This lovely oil comes from the Pinaceae family, and consists of beta-, alpha-, and gamma-himachalene, gamma-atlantone, and delta-cadinene amongst a total of 120 constituents. Like any of our essential oils at Pranarōm, you can call our customer care number and request the Certificate of Analysis on any batch of essential oils – all we need is the lot number on your carton box. Our primary goal at Pranarōm is offering the best quality, organic essential oils with transparency and traceability.
Physiologically, Atlas Cedarwood supports the body's circulatory system and cognitive function. The oil is commonly used in blends to support the body in cases of cellulite, circulatory stasis, bruises, and cognitive function. It also has a soothing and softening effect to the emotions, and is known to be gentle on the skin, which is why it is included in Pranarōm's Calm Moisture Treatment Oil in the Plant Beautiful Organic Skincare line. Likewise, in the Beard Oil Wellness Blend, Atlas Cedarwood provides a soothing aroma while soothing the skin under facial hair.
Diffuse Atlas Cedarwood to enhance meditative relaxation, intuitive work, or to help ease irritability after a rough day at work. 4-5 drops in an ultrasonic diffuser is all you need to relax and unwind.
With a warm, rich, woody and honey-like aroma, Atlas Cedarwood can blend easily with most essential oils. Some favorites are: Black Spruce, Clary Sage, Frankincense, Helichrysum, Lavender, Myrrh, Patchouli, Peppermint, Rosemary ct cinole and ct verbenone, Tea Tree, and Vetiver. When treating a bruise, Atlas Cedarwood can be very helpful to shorten the duration of a bruise's appearance. Blend with Helichrysum for an even more effective support blend.